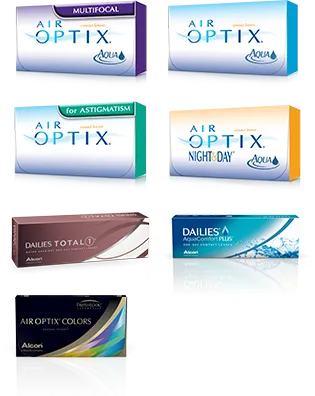 We offer a variety of contact lenses options to treat near-sightedness, far-sightedness, and astigmatism. Even if you wear bifocals, today there are many contact lens options available to you. There are no age restrictions to contact lens wear. If your optometrist believes you can maintain good ocular health and comfort you can wear contact lenses. Don't be afraid to ask!
If you have been unsuccessful in contact lenses before, let us evaluate your ocular health and prescription needs. We will reintroduce you to the latest contact lens technology and fitting techniques to help you try and obtain clear, comfortable vision. Our doctors and technicians will take the time to sit down with you and make sure you are comfortable with handling your lenses before you leave the office.
If you would like to decrease your dependency on glasses we will schedule a contact lens fitting so that we can take additional time to evaluate your occupational and recreational needs and discuss your options.
Do you play sports? Want to wear sunglasses? Work long hours? Have dry eyes?
We have a lens for that!